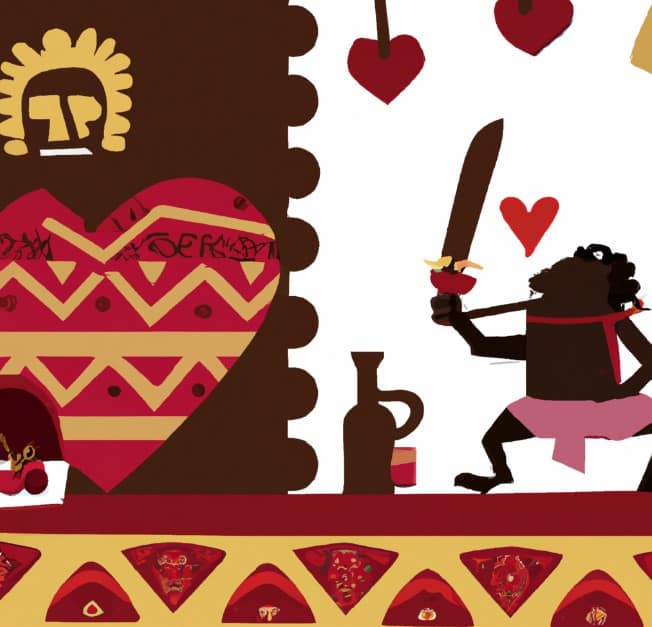 Easter is now less than a month away. It's time to get a spring in your step, and gift some great chocolate Easter treats. We've a wonderful range covering everything from craft chocolate eggs to hampers, from chicks to bunnies, and from quiz-related gifts to 'make your own' kits.
If you want to know why we give Easter eggs and rabbits, why light bulb packaging helped launch these customs, and who really invented Easter egg rolling, please check out the last few blog posts. And consider our 'Easter traditions activity set' to add more fun to the festivities.
But springtime wasn't all blossoms and bunnies in the past. Read on to discover far more gruesome Aztec spring customs involving chocolate, child sacrifices, and cannibalism. Warning: these rituals are extremely gory and not for the fainthearted! You'll also learn why these customs bore the blame for the terrible weather at the opening of the Mexican Olympic Games over fifty years ago.
If you're short on time, you can watch my video summary instead:
---
The Divine Origins of Chocolate
Although there are no written records predating the Spanish conquest of the Americas, many pre-conquest carvings and post-conquest chronicles clearly show that chocolate held deep religious and symbolic importance for the Aztecs. Indeed, the Aztecs believed they could enjoy chocolate drinks thanks to the god Quetzalcoatl, who brought a stolen cocoa tree from the heavens when he came to earth on "the beam of a morning star". There are then all sorts of complicated stories about other gods punishing him for this, but the basic upshot was that humans were able to enjoy 'cacahuatl' (literally 'cacao water'), drinking it for nourishment and sustenance. They made it central to their worship and celebration of their gods, including in their spring festivals.
---
Spring Ceremonies and Chocolate
The Aztec Empire was crucially dependent on the spring rains. Their pantheon of gods included a rain god, Tlaloc, whose name literally translates to "He Who Makes Things Sprout". Tlaloc was believed to inhabit the clouds at the top of mountains from where he dispatched, on the one hand, life-giving rains and, on the other, life-threatening storms and floods (the Mayans had a similar god called Chaac).
To appease Tlaloc, the Aztecs organized multiple festivals involving gifts of cocoa, maize pulque (an alcoholic brew) and, most notoriously, child sacrifice. The Aztecs believed that if they didn't manage to appease Tlaloc, the rains wouldn't come, their cocoa and maize crops would die, and leprosy and rheumatism would afflict their empire. They also believed that the tears of sacrifice victims were necessary to truly appease Tlaloc.
The Conquistadors used descriptions of these human sacrifices as proof of the barbarism and brutality of the Aztec Empire, 'justifying' their overthrow of the Empire and enslavement of the people.
In the Florentine Codex, one of the first post-invasion chronicles originally titled 'The General History of the Things of New Spain', Bernadino de Sahagun wrote:
"In this month they slew many children; they sacrificed them in many places upon the mountain tops … in honor of the gods of water, so that they might give them water or rain… When they took the children to be slain, if they wept and shed many tears, those who carried them rejoiced, for they took [it] as an omen that they would have much rain that year".
Recent archaeological excavations have unearthed the remains of over 40 children sacrificed to Tlaloc at Tenochtitlan, corroborating these accounts of child sacrifice. Even more disturbingly, many of these children had suffered serious injuries before their deaths, confirming the existence of the belief that appeasing Tlaloc required children's tears.
---
Hearts, Daggers, and Chocolate
Tlaloc was not the only Aztec god to be appeased with chocolate and human sacrifice. Bernadino de Sahagun also writes extensively about the festival of Toxcatl, where a young warrior was sacrificed after his year-long impersonation, and reverence of the Aztec god Tezcatlipoca. His lengthy descriptions, along with similar works by Durans and Pomar popularized the Aztecs' reputation for gory sacrifices and cannibalism.
The rituals described surrounding Toxcatl are pretty extraordinary. Aztec priests would select a young warrior, normally captured in battle and chosen for his stamina, beauty and smarts, to become 'ixiptlatli', the personification of the god Texcatlipoca (translates as "smoky mirror") for the next year. As the personification of the powerful god Texcatlipoca, this warrior was treated with amazing reverence, receiving honours, presiding over various feasts, learning to play the flute, meeting regularly with Aztec leaders, and being bestowed with four wives (who, in turn, represented other gods).
However, this 'posting' was only for a year with a brutal denouement. At the end of his year as ixiptlatli, the warrior would be rowed to a small island, specially dressed, and then his wives would offer him a special concoction of drinking chocolate mixed with achiote, symbolising 'heart and blood' (the cocoa pod's shape was thought to resemble a heart, and achiote is blood red, etc.). He would then be laid down on a sacrificial altar and his heart cut out with an obsidian blade, chosen because it was reflective and thus honoured Texcatlipoca ("smoky mirror"). The warrior's dead body was then decapitated and his skull placed on a special altar known as tzompantli (skull rack). The Spanish chroniclers describe how the dead warrior's body was then flayed, and his flesh was distributed among the nobles of the city to be eaten. Some of this flesh was also given to the captive warrior who had been selected as the next annual impersonator of Tezcatlipoca, and he in turn was expected to eat, and even wear, this flayed flesh of his predecessor. Again, there is some archaeological evidence surrounding the practice of human sacrifice, with traces of human blood identified on sculptural representations of the gods at various temples, and human blood, cartilage etc. has been found on obsidian knives that date back to the Aztecs and their Mayan counterparts too.
However, historians and archaeologists now debate how extensively the Aztecs (along with their Mayan and Olmec antecedents) practised human and child sacrifice, suggesting that the Conquistadors used these horrifying customs to justify their own appalling behaviour. There certainly has been some over-exaggeration; for example, the idea that the Aztecs waged war 'just' to capture enemy warriors for sacrifice has been effectively debunked. Considering the blood-curdling story of Toxcatl, with obsidian knives cutting out hearts after drinking chocolate mixed with achiote, it's worth noting that one of Cortes' most notorious massacres of unarmed Aztec noble families was at the Toxcatl festival in 1520, so the stories of Aztec barbarism and cannibalism may well have been an attempt to justify this massacre and treachery.
---
In the more recent past
Just before the opening of the Olympic Games in Mexico City in 1968, a group of students built a statue of Tlaloc. Fortunately, they didn't indulge in child sacrifice, nor did they offer Tlaloc any chocolate. Unfortunately, it's suggested that this "disrespect", combined with a sit-in on top of the statue, led to Tlaloc letting the heavens open and deluging the Olympic opening ceremonies (and indeed first week) with torrential rain.
Thankfully, today our associations with children, chocolate and springtime are far happier, with more positive stories and practices! So this Easter, please do celebrate with craft chocolate.
Thanks again for your support.
Keep savouring!
Spencer
Sources and Further Reading
https://www.britannica.com/topic/Chac
https://en.wikipedia.org/wiki/Human_sacrifice_in_Aztec_culture
https://www.mexicolore.co.uk/aztecs/gods/god-of-the-month-tlaloc-1
https://www.cambridge.org/core/journals/latin-american-antiquity/article/abs/reevaluation-of-the-role-of-war-captives-in-the-aztec-empire/DC29086F6A2C48BD4A7341B4200170B5
https://en.wikipedia.org/wiki/Child_sacrifice_in_pre-Columbian_cultures
https://www.dailymail.co.uk/sciencetech/article-2138946/The-2000-year-old-bloody-knife-PROVES-ancient-Mexicans-practiced-human-sacrifice.html