Åkesson's Organic – Madagascar 
Bertil Åkesson is one of the world's most renowned cocoa growers, and was one of the first people to start selling high-quality Madagascan beans internationally to craft makers.
Location: Åkesson's Organic Estate, Ambanja, Sambirano Valley, North West Madagascar. The plantation is divided up into four smaller estates: Madirofolo, Menavava, Bejofo, Ambolikapik.
Bean Type: Forastero and Trinitario from Bejofo, and Criollo
Terroir: Åkesson's beans are grown amidst spices: the pepper plants provide a canopy of shade to protect the cacao trees from direct sunlight.
Flavour Notes: Madagascan beans are distinctly fruity- the Forastero and Trinitario variety tend to have a more tropical fruit character whereas the Criollo beans tend to have a sweeter red berry flavour.
The Story Behind Åkesson's Estate
This estate had been producing cocoa since the 1920s. When the Åkesson family settled in Madagascar in the 1970s they took over, and since then a commitment to achieving the finest quality beans (along with spices such as pepper and vanilla) has driven operations. Åkesson's also make their own award-winning chocolate, using the spices grown alongside their cocoa to create unusual and delicious flavour combinations.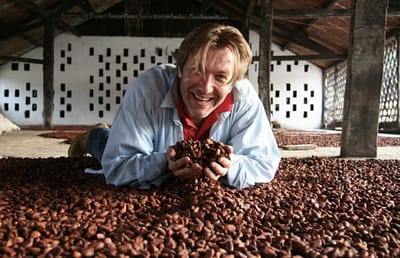 Impact
In Madagascar, Åkesson's estate is certified as "Fair For Life" by IMO. Indeed, Åkesson's describe it as a "single-living organism", holistically providing a secure working and social environment. They provide land to their employees to encourage self-sufficiency, contribute to the building of schools in the area and organise medicine collection (from Europe) and distribution.
Although Åkesson's primary focus is on producing the finest quality cocoa possible, they are committed to doing so sustainably. For instance, they have converted all the energy on their estate to solar energy (via GAÏA Alternative Energy). They also redistribute half of this electricity to the nearby village where their employees live.